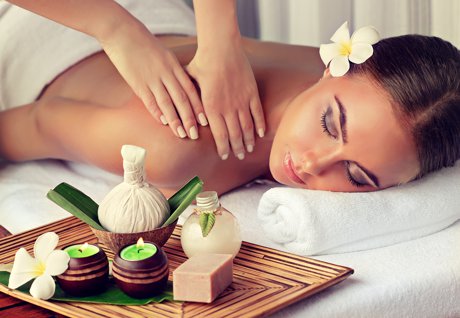 Discover sanctuary from daily stressors with a timeout at Spa at Stone Creek. Step into this Cary property and breathe a sigh of relief. Unwind and get ready for proper pampering. Clients are covered from head to toe. Services at the salon are extensive with massage, facials, skin care, slimming techniques, manicures, pedicures and more.
Massage treatments have been soothing muscles and quieting the soul throughout time. A variety of techniques combine ancient and modern teachings. Signature Massage regiments focus on each individual. Before expert massage therapists get hands on, the client's needs are thoroughly discussed. Fragrant oils stimulate the senses adding an rejuvenating feel to experiences. Methods tried and true energize the body with the Stone Creek Abhyanga Massage treatment. Combining herbal wraps and a toxic cleanse with long, soothing strokes the ancient Ayurvedic Massage process is a therapeutic one. The Anti-aging Zen Massage keeps folks feeling young.
Find Moments of Pure Bliss when Living in Cary
Athletes head over to the Cary property when they have done too much. Sports Massage helps clients get back in the game by easing sore muscles with deep tissue therapy. Aromatherapy and warm stone treatments can be added on to any session creating a deeper level of relaxation. Time spent at the Spa at Stone Creek adds to the spark of romance with couples massages. Brides and moms to be living in Cary also find custom plans perfect for their current place in the journey of life.
Don't forget the extra's. It's easy to face the day after visiting the center for a facial. Facials address common issues such as aging and acne, redness and discoloration. View the full menu for facials here. Nicely manicured nails are impressive and pedicures add a sparkle to your step. Spa packages combine services for the ultimate experience. The Spa Sampler is great for first time visits and men love to indulge in the Gruff-n-Tuff package. Repeat customers are in for a treat when signing up for the Spa Series Package as each fifth visit is complimentary.
Reserve a spot for relaxation online or by calling 919.377.0390. Find some time to devote to personal bliss today.